11/03/2022
"Vatersland": Successful German premiere with film team in Cologne
On 2 March 2022, the major feature drama "Vatersland" celebrated its German premiere at the Filmforum of the Museum Ludwig in Cologne! "Vatersland" is unique memoir cinema about the trauma of an entire generation: In the film, director Petra Seeger processes her own youth in a post-war society dominated by men. Sharp-eyed, feminist and at the same time immensely entertaining and humorous.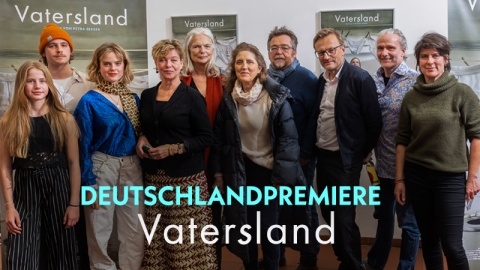 From the left: German premiere of "Vatersland" with FeliziaTrube, Matti Schmidt-Schaller, Stella Holzapfel, Margarita Broich, Petra Seeger, Petra Müller, Herbert Schwering, Hajo Schomerus, Stephan Winkler, Christine Kiauk. © W-film / Guido Schiefer
Petra Seeger and the film team present "Vatersland" at the Filmforum in Cologne
Guests in the subsequent film discussion were director Petra Seeger, producers Christine Kiauk and Herbert Schwering from Coin Film, as well as the actors Margarita Broich, Felizia Trube, Stella Holzapfel and Matti Schmidt-Schaller. During the Q&A, both the audience and the actors were deeply touched by the film. Moderator Sonja Hofmann emphasised that "Vatersland" hits the zeitgeist of an entire generation through its themes of the post-war period and overcoming trauma, and at the same time is "incredibly private and courageous". Producer Christine Kiauk was also enthusiastic about a "script full of observations of the era". At the end of the evening, Petra Seeger gave the guests a glimpse behind the scenes on the film set: "We have become a family!"
"Vatersland" opens in cinemas nationwide from 10 March 2022 to coincide with International Women's Day.
Further Links
Back to news